Sorry this post is a little late today I was working on a different one for today, but I really want time to work on it a little more so I don't post something that is not the best I can do especially for the next one I am working on. But it will be up the next day of the July-t-ful Du Jour series. Instead today I will share the top bathing suit trends for the hot days of summer. Unfortunately I have been busy So I haven't had the chance to go to a beach or pool. But when I was looking at swimsuits I noticed they had some modest components to it, which I am personally a fan of. You seemed to like my last post where I shared my favorite pictures of people styling Birkenstocks so I decided to do the same with my favorite bathing suits this summer.
High Waisted Bottoms
Although this is highwaisted bottoms a lot of skin is still being shown with the cutouts on the sides and mesh on the top.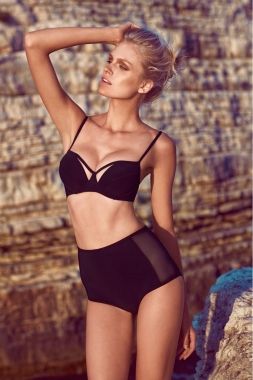 This bathing suit is similar to the one above, but is switched with wear the cutouts and mesh is placed.
This pair is a lot more modest than most bikinis, but the eye-catching Gingham print keeps it interesting.
This style has a top with thicker straps and a U shaped neck instead of the usual V, giving it a sporty flair. The blocks of black and whote act as a color when there is none because of the bold thick lines.
These two also have the sporty style, but use this bright yellow as a pop of color. Which will also look amazing with a tan.
These two have the high neck cut, but have bold patterns and designs which keeps it interesting.
If you want to show a little more skin, but don't want to sacrifice the trendy cut, try a netting design. This will show more skin and have the same effect of the patterns by providing an elegant eye-catcher.
I hope you enjoyed this type of post. Let me know which trend is your favorite in the comments below. I am sorry it is a little short, but the next one will not disappoint (I hope).