X Androgyny X
The openness and greater acceptance has become a new trend on it's own, although there is a lot more to conquer on this long bumpy path we started with our single step. I do not mean to belittle a single person by calling a part of their life a trend because being who you truly are lasts a lifetime and brings a happiness that can not be recreated. But in the fashion world a trend is the word that is used to describe a change and a new mass following. Although it may not be the best word to use in this instance it is the only one that comes to mind and I am content with it because a group of loving people changing their ways and constantly allowing newcomers is better than a complete isolation of a group. No change. No gain.
Now with that complete vomit of words it is time to condense what I have written into something that will make sense to not only myself. I wanted to dedicate this post to not just the fashion shift to androgyny style; one that is indeterminate of sex, but also the people who live their life that way.
Here are some of the top androgynous models and how to achieve
their
look based on your own body.
Destiny Owusu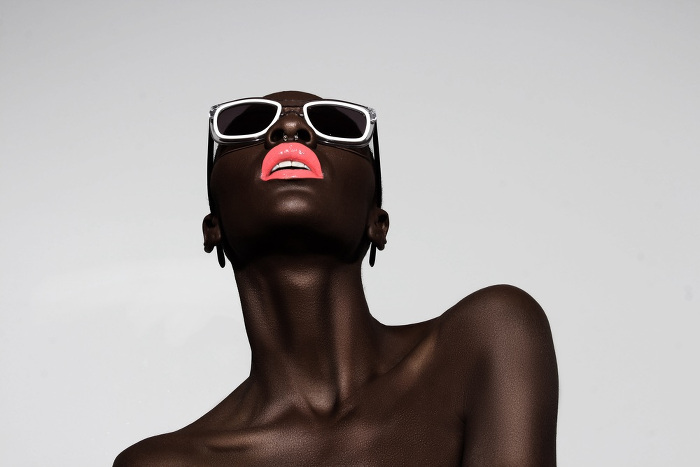 A shaved head and piercing features makes Destiny unstoppable. She plays up a masculine side with a shaved head showing she doesn't need long hair to turn heads. Her blade-like cheekbones and collar bone and her gorgeous complexion add to her feminine side.
A perfect piece if your main features is your structure is a nice neckline. If your most prized asset is Cheekbones, wear a button up shirt to make sure your face is the main focus. Collar bone, try a boat neck instead unless you are really feeling adventurous then try a suit with no shirt underneath.
Elliott Sailors
Elliott Sailors defintelty has that boyish look to her, but always puts out a fierce face which i like to use as the example for her more feminine side. Women are fierce!
Although the hollows of her cheeks is a force to be reckon with, it can stand out all on it's own. Instead I want to play off her lean frame with a nice pair of joggers. Slaks could work too but for added comfort opt for an adjustable or elastic waistband. If your stature is less about curves and more about clean lines tie a jacket around your waist for extra definition.
These are just some of my tips on how to make the androgynous style your own based on your own body. Let me know in the comments if you would like a continued version or what else you would like to see from my blog.
xoxo
KD
Want more? Follow K-Du Jour on: Bloglovin', Google+, Pinterest, Tumblr