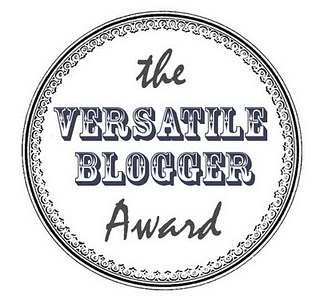 I was very graciously nominated by
Roberta Romeo
who writes the beautiful blog
www.milleunrossetto.blogspot.it
for the Versatile Blogger Award!! I am extremely thankful and honored that I was nominated and with this nomination comes a few guidelines.
Thank the person who gave you this award. That's common courtesy.

Include a link to their blog. That's also common courtesy — if you can figure out how to do it.

Next, select 15 blogs/bloggers that you've recently discovered or follow regularly. ( I would add, pick blogs or bloggers that are excellent!)

Nominate those 15 bloggers for the Versatile Blogger Award — you might include a link to this site.

Finally, tell the person who nominated you 7 things about yourself.
~I am working on the 15 blogs I would like to nominate and the completed list will be linked below, I really want to search for incredible blogs that do not have as much attention as they deserve... and now I would like to share 7 facts about myself (killer transition haha).
2. I have two brothers, one older, one younger (I am the middle child)
3. I have been dancing since I was 3 and currently take ballet and pointe
4. I desperately want a puppy
6. I am learning both Latin and French
7. Pad Thai is my favorite food
Those facts were kind of lame, but I didn't think it would be as hard as it was to come up with 7 facts about myself. But if there is any other questions you have for me ask me in the comments below. I hope you enjoyed this (sad) little tidbit about my life!
15 Blogs I nominate (So far...)